Home

/

HIK-Hybrid Alarm-Kit3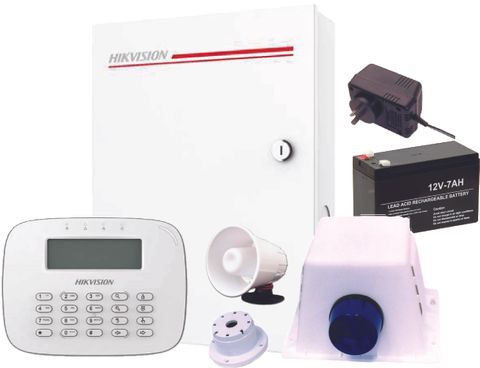 Description
Hikvision Hybrid Alarm Kit.
Kit Includes
1 x HIK-AL-PHA64-W4M: Hikvision AX Hybrid Panel, 8 zones (expandable to 64) & 4 channel video verification.
1 x POW-Hybrid Alarm: 15VDC 3Amp PSU
1 x HIK-AL-PK-LRT: Hikvision Wired LCD Keypad with built-in receiver (for remote FOBS only)
1 x NOIS03A: Noise Kit with Siren Cover, Tophat Piezo, Tamper, Siren & Blue Strobe.
1 x BAT09: 12Vdc 7Ah Battery.
Specifications
<p><span style="font-size: 18px;"><strong>Hikvision Hybrid Alarm Kit.</strong></span></p><p><span style="font-size: 16px;"><strong>Kit Includes</strong></span></p><p><span style="font-size: 16px;">1 x&nbsp;HIK-AL-PHA64-W4M: Hikvision AX Hybrid Panel, 8 zones (expandable to 64) &amp; 4 channel video verification.<br />1 x&nbsp;POW-Hybrid Alarm: 15VDC 3Amp PSU<br />1 x&nbsp;HIK-AL-PK-LRT:&nbsp;Hikvision Wired LCD Keypad with built-in receiver (for remote FOBS only)<br />1 x&nbsp;NOIS03A: Noise Kit with Siren Cover, Tophat Piezo, Tamper, Siren &amp; Blue Strobe.<br />1 x BAT09: 12Vdc 7Ah Battery.</span></p>