Home

/

AXIS 01558-001 - C8210 Network Audio Amplifier is a smart migration tool for transforming any passive speaker, independent of brand or formfactor, into a network speaker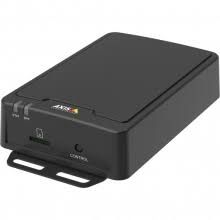 AXIS 01558-001 - C8210 Network Audio Amplifier is a smart migration tool for transforming any passive speaker, independent of brand or formfactor, into a network speaker
Description
AXIS C8210 Network Audio Amplifier
The smart and easy way to transform passive speakers into network audio
15W power amplifier with built-in DSP

Use with one or multiple speakers

System health monitoring

One cable for power and connectivity (PoE)

Open standards for easy integration


*NB Order on Demand item, please check stock with your local store.




AXIS C8210 Network Audio Amplifier is a compact and smart migration tool that transforms any passive speaker into a network speaker with all the benefits of network audio. So all your speakers, regardless of brand or design, can feature the same functionality as Axis network audio speakers. AXIS C8210 is ideal for playing background music and live and scheduled announcements in educational facilities and retail stores.
Network audio with any speaker
AXIS C8210 has a built-in amplifier and Digital Signal Processor (DSP) that delivers a total power output of 15W and can transmit high-quality digital audio to one or multiple speakers, depending on your needs. Since everything is built-in there's no need for additional equipment, making the transition into network audio smart and easy.


Enjoy flexibility and scalability
Together with pre-installed AXIS Audio Manager Edge (audio management software) AXIS C8210 allows you to create flexible zoning for live, scheduled or triggered announcements or background music, and ensures that right content is played at the right time, at the right place. It has never been simpler and more flexible to control and manage all your audio devices from one location.
As all Axis network products, AXIS C8210 is based on an open platform which makes it easy to integrate it into other systems such as network cameras for security purposes or VoIP for call-outs in public address applications.
Effortless installation
AXIS C8210 is installed at the edge by the speaker, so there's no need for extra space. And with just one cable for power and connectivity (PoE) you can connect it directly to your IP network, which simplifies complex installations and instantly gives you the benefits of network audio. Furthermore, with support for health monitoring, it brings you peace of mind and facilitates service and maintenance.
<p class="page-header"><span style="font-size: 18px;"><strong>AXIS C8210 Network Audio Amplifier</strong></span><br /><span style="font-size: 18px;">The smart and easy way to transform passive speakers into network audio</span></p><ul><li><span style="font-size: 18px;">15W power amplifier with built-in DSP</span></li><li><span style="font-size: 18px;">Use with one or multiple speakers</span></li><li><span style="font-size: 18px;">System health monitoring</span></li><li><span style="font-size: 18px;">One cable for power and connectivity (PoE)</span></li><li><span style="font-size: 18px;">Open standards for easy integration<br /><span style="font-size: 14px;">*NB Order on Demand item, please check stock with your local store.</span><br /><br /></span></li></ul><p><span style="font-size: 18px;"><strong>AXIS C8210</strong> Network Audio Amplifier is a compact and smart migration tool that transforms any passive speaker into a network speaker with all the benefits of network audio.&nbsp; So all your speakers, regardless of brand or design, can feature the same functionality as Axis network audio speakers. AXIS C8210 is ideal for playing background music and live and scheduled announcements in educational facilities and retail&nbsp;stores.</span></p><div class="xs-acol-12 sm-acol-12 md-acol-12 lg-acol-12"><p><span style="font-size: 18px;"><strong>Network audio with any speaker</strong></span></p></div><div class="image-left-col xs-acol-12 sm-acol-12 md-acol-12 lg-acol-6"><div class="media-position normalize-padding"><p class="img-container"><span style="font-size: 18px;"><picture class="img-responsive"><img src="https://d347awuzx0kdse.cloudfront.net/vsp/content-image/c8210_sweoutlet_0.png" alt="" width="400" style="float: left;" />With AXIS C8210 you can keep your existing passive speakers or choose any speaker on the market. Either way, you can mix and match passive and network audio speakers in one installation and they will work together seamlessly. This makes AXIS C8210 the perfect solution for existing installations that you want to migrate into network audio, as well as new installations with specific speaker requirements.</picture></span></p><p class="img-container"><span style="font-size: 18px;">&nbsp;</span></p><div class="chunk-nid-57284 chunk-vid-140919 chunk row basic-text" data-chunktype="chunk_basic_text" data-chunk-nid="57284"><div class="xs-acol-12 sm-acol-12 md-acol-12 lg-acol-12"><div class="field field-name-body field-type-text-with-summary field-label-hidden"><div class="field-items"><div class="field-item even"><p><span style="font-size: 18px;"><strong>AXIS C8210</strong> has a built-in amplifier and Digital Signal Processor (DSP) that delivers a total power output of 15W and can transmit high-quality digital audio to one or multiple speakers, depending on your needs. Since everything is built-in there&rsquo;s no need for additional equipment, making the transition into network audio smart and easy.<br /><br /></span></p><table style="height: 56px;" width="923"><tbody><tr><td style="width: 454.1px;"><iframe src="https://www.axis.com/videoplayer/38261" width="500" height="250" frameborder="0" allowfullscreen="allowfullscreen" data-mce-fragment="1"></iframe></td><td style="width: 454.1px;"><iframe src="https://www.axis.com/videoplayer/38235" width="500" height="250" frameborder="0" allowfullscreen="allowfullscreen" data-mce-fragment="1"></iframe></td></tr></tbody></table></div></div></div></div></div><div class="chunk-nid-56814 chunk-vid-165470 chunk row chunk-video-two-columns" data-chunktype="chunk_video_collection" data-chunk-nid="56814"><div class="xs-acol-12 sm-acol-12 md-acol-12 lg-acol-12"><div class="row"><div class="video-collection-wrapper"><div class="xs-acol-12 sm-acol-12 md-acol-12 lg-acol-6 video-wrapper"><div class="vid-container"><span style="font-size: 18px;">&nbsp;</span></div></div></div></div></div></div><div class="chunk-nid-56818 chunk-vid-171349 chunk row basic-text axis-hover" data-chunktype="chunk_basic_text" data-chunk-nid="56818"><div class="xs-acol-12 sm-acol-12 md-acol-12 lg-acol-12"><h2><span style="font-size: 18px;">Enjoy flexibility and scalability</span></h2><div class="field field-name-body field-type-text-with-summary field-label-hidden"><div class="field-items"><div class="field-item even"><p><span style="font-size: 18px;">Together with pre-installed&nbsp;<a href="https://www.axis.com/products/axis-audio-manager-edge">AXIS Audio Manager Edge</a>&nbsp;(audio management software) AXIS C8210 allows you to create flexible zoning for live, scheduled or triggered announcements or background music, and ensures that right content is played at the right time, at the right place. It has never been simpler and more flexible to control and manage all your audio devices from one location.</span></p><p><span style="font-size: 18px;">As all Axis network products, AXIS C8210 is based on an open platform which makes it easy to integrate it into other systems such as network cameras for security purposes or VoIP for call-outs in public address applications.&nbsp;</span></p></div></div></div></div></div><div class="chunk-nid-57342 chunk-vid-141793 chunk row basic-text" data-chunktype="chunk_basic_text" data-chunk-nid="57342"><div class="xs-acol-12 sm-acol-12 md-acol-12 lg-acol-12"><h2><span style="font-size: 18px;">Effortless installation</span></h2><div class="field field-name-body field-type-text-with-summary field-label-hidden"><div class="field-items"><div class="field-item even"><p><span style="font-size: 18px;">AXIS C8210 is installed at the edge by the speaker, so there&rsquo;s no need for extra space. And with just one cable for power and connectivity (PoE) you can connect it directly to your IP network, which simplifies complex installations and instantly gives you the benefits of network audio. Furthermore, with support for health monitoring, it brings you peace of mind and&nbsp;facilitates service and maintenance.</span></p><p><iframe src="//www.youtube.com/embed/6_hfrn8Jwd8" width="560" height="314" allowfullscreen="allowfullscreen"></iframe></p></div></div></div></div></div></div></div><div class="xs-acol-12 sm-acol-12 md-acol-12 lg-acol-6"><div class="field field-name-body field-type-text-with-summary field-label-hidden"><div class="field-items"><div class="field-item even"><p><span style="font-size: 18px;">&nbsp;</span></p></div></div></div></div>