Exclusive to VSP: AXIS Home + Small Business Pack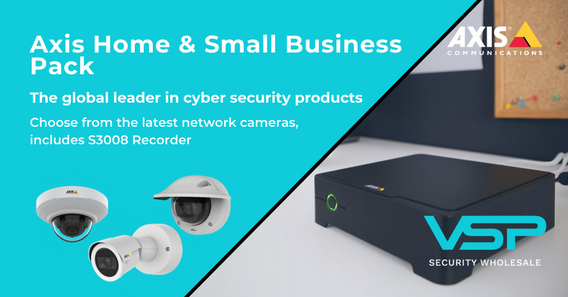 Exclusive to VSP: Axis Home + Small Business Pack
Security solutions for your home or business.
Right for you today. And tomorrow.
Introduce your customers to the premium supplier in video security with the first ever packaged solution from Axis made exclusively for your Home and Small Business customers.

When cyber security is the highest priority Axis, the global leader in video security, is the smartest choice. The compact camera features a wide angle view in HDTV 1080p video.

Supported by a 5 year warranty*, Axis companion video management software and mobile app the Axis Home & Small Business Pack is the premium choice.
Axis Home + Small Business Pack contains:
High quality surveillance grade cameras with wide angle view
2TB Recorder with integrated PoE switch for 8 ports
Axis Edge Vault and Zipstream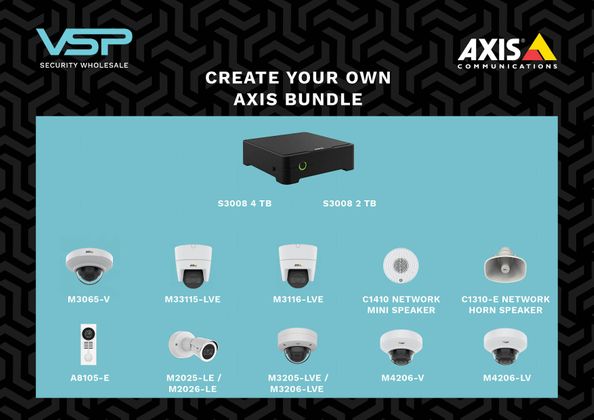 Smart security solutions protect your business. No matter what.
With an Axis Home + Small Business Pack, you can rest easy. Whether you require security video surveillance for your home or business, you're well protected against intruders, break-ins, vandalism and anything else.
Choose from the highest quality of cameras to pair with the Axis S3008 Recorder. Mix and match to suit your business needs.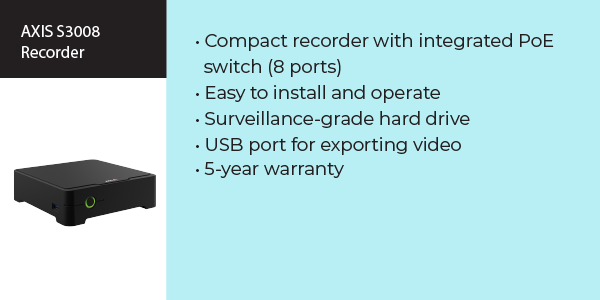 When your business grows, so should your security solution.
Axis end-to-end security solution pack can easily be adapted to your home or growing business and changing needs. This means you can start out with a basic bundle. And then seamlessly add more of devices as you go – whenever you need them.
We look forward to assisting you in providing the best solutions for your customers needs.
For more information or to place an order contact our Axis Expert: Tony@vspsolutions.com.au or call your local VSP branch 1800 228 828.
Axis Home + Small Business Pack Brochure
Axis Data Sheet - S3008 Recorder